Home

$FUNDS: Bridging the Gap to Cardano (ADA) and Cryptocurrency Awareness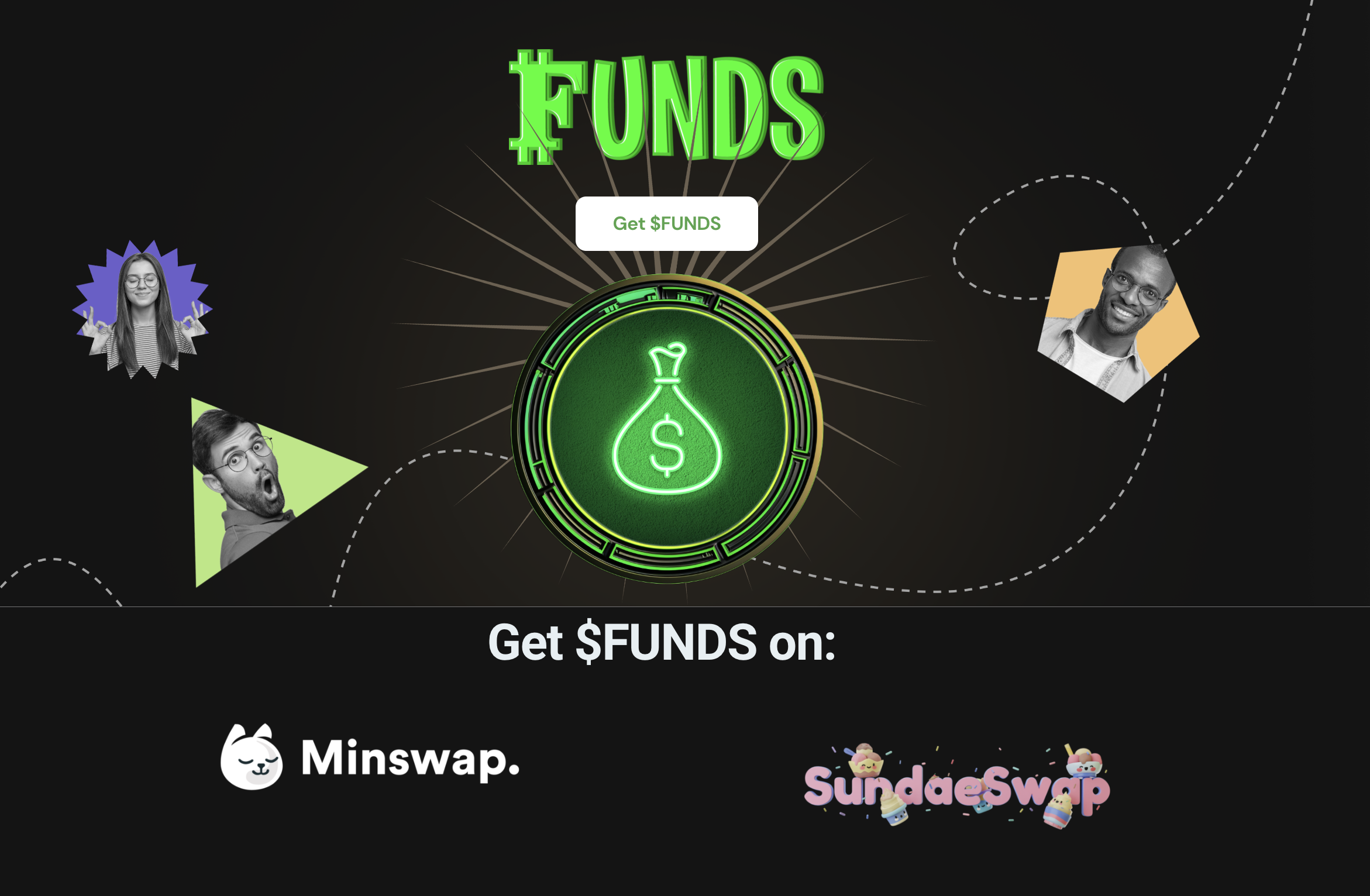 $FUNDS: Bridging the Gap to Cardano (ADA) and Cryptocurrency Awareness
In the ever-evolving world of cryptocurrencies, a new token has emerged with a mission to bridge the gap between mainstream adoption and the revolutionary potential of blockchain technology. Enter Cardano FUNDS, a crypto awareness token that aims to onboard individuals to Cardano and the broader cryptocurrency ecosystem. What sets $FUNDS apart is not just its dedication to raising awareness but also its unique ecosystem and use case, which sets it apart from many other crypto projects.
Raising Awareness and Onboarding:
One of the primary objectives of $FUNDS is to spread awareness about Cardano and cryptocurrencies. With an array of awareness campaigns and educational initiatives, $FUNDS strives to make blockchain technology more accessible to the masses. By demystifying the complexities and highlighting the potential benefits, $FUNDS aims to onboard individuals to the world of crypto with ease and confidence.
Price Appreciation through Natural Usage:
While $FUNDS focuses on awareness and onboarding, its ecosystem is designed to create a natural demand for the token. As more individuals engage with the $FUNDS platform and participate in its awareness campaigns, the token's usage and value are likely to appreciate. This unique characteristic sets $FUNDS apart from other projects solely reliant on speculative trading. The more $FUNDS is used, the more valuable it becomes, creating a sustainable growth model for token holders.

The $FUNDS Ecosystem:
$FUNDS is not just a token; it encompasses an entire ecosystem that supports its mission. This ecosystem includes partnerships with established entities in the crypto space, collaborations with influencers, educational resources, and a vibrant community of enthusiasts. By leveraging these connections and resources, $FUNDS is able to amplify its message and impact, ultimately accelerating the adoption of Cardano and cryptocurrencies as a whole.
Use Case Differentiation:
What makes $FUNDS stand out from the crowd is its clear use case differentiation. While many crypto projects focus solely on technology or financial solutions, $FUNDS recognizes the importance of driving mainstream adoption and building a community of educated users. By providing the tools, resources, and support needed for individuals to confidently navigate the world of cryptocurrencies, $FUNDS becomes a catalyst for widespread adoption.
Conclusion:
$FUNDS is more than just a crypto awareness token; it represents a paradigm shift in how we approach the onboarding of individuals into the world of Cardano and cryptocurrencies. Through its targeted awareness campaigns, emphasis on education, and sustainable growth model, $FUNDS is poised to make a lasting impact on the crypto landscape. By empowering individuals, building a supportive ecosystem, and differentiating itself through its use case, $FUNDS is paving the way for a future where blockchain technology is embraced by all. So, join the $FUNDS movement, and let's unlock the potential of Cardano and cryptocurrencies together.
(Visited 363,691 times, 1 visits today)
You Might Be Interested In