Home

Bitcoin's ($BTC) Strong Surge: "Ubtober" Phenomenon Perhaps Explained and Early Bull Run ?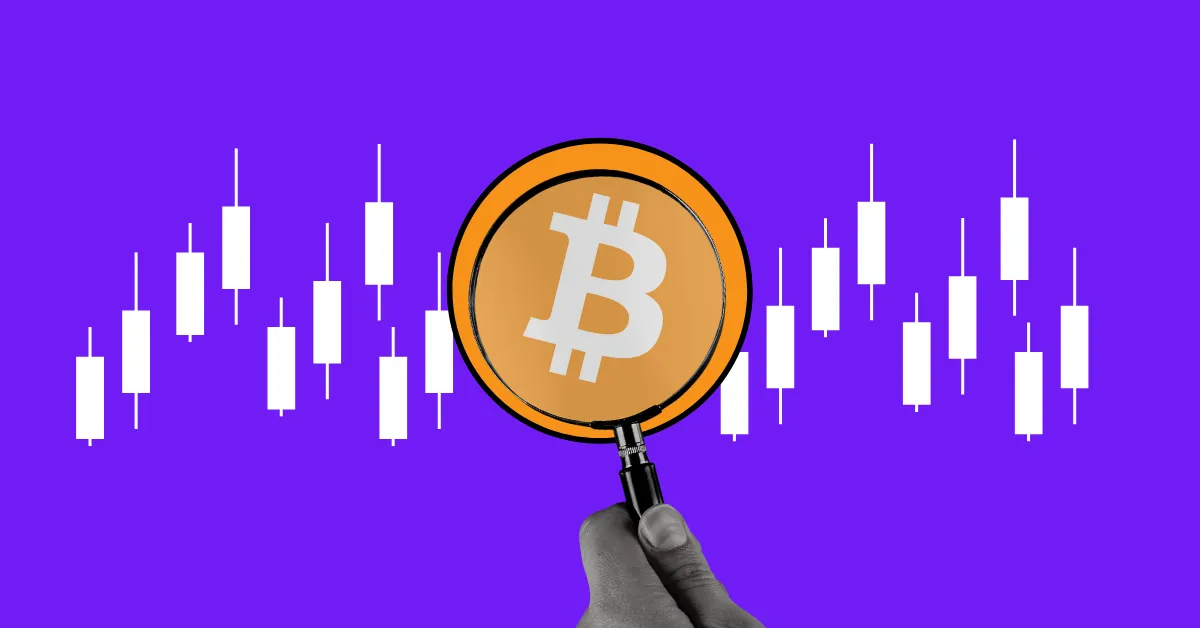 Bitcoin's ($BTC) Strong Surge: "Ubtober" Phenomenon Perhaps Explained and Early Bull Run ?
In a striking turn of events, Bitcoin ($BTC) has witnessed a remarkable surge of 2.6% in the last seven days, bolstering its position in the ever-evolving world of cryptocurrencies. Currently trading at $25,900 at the time of writing this article. This surge coincides with the arrival of October, a month now colloquially known as "Ubtober" in the crypto community, due to the fiscal year's commencement for many institutions. This intriguing correlation may hold significant implications for the broader financial landscape.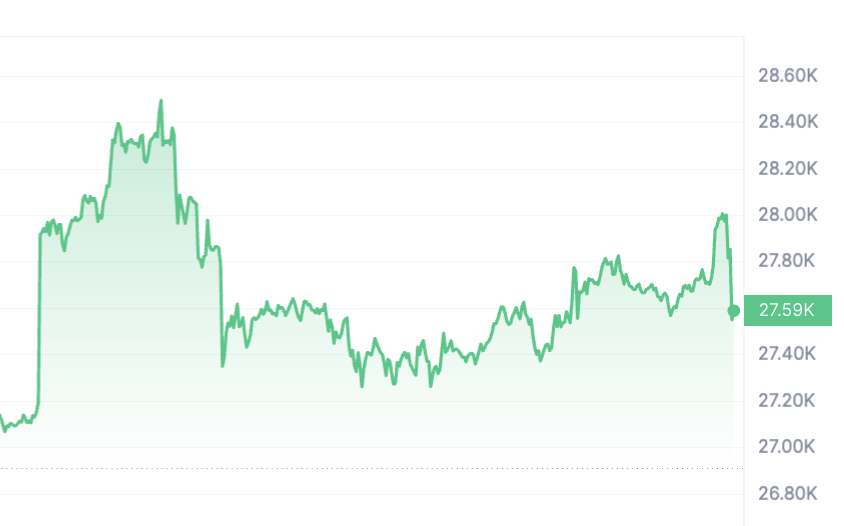 The "Ubtober" Effect: Unraveling the Connection
October has earned its unique moniker, "Ubtober," in the cryptocurrency sphere for a compelling reason. For numerous institutions, October marks the start of their fiscal year. This is particularly relevant in the financial sector, where various entities ranging from investment firms to venture capital funds align their financial calendars with the arrival of October. The rationale behind this practice is to set the stage for a fresh year of financial planning and investment strategies.
As Bitcoin continues to gain traction as a legitimate asset class, it's no surprise that its performance tends to respond to the rhythm of the institutional financial cycle. The onset of a new fiscal year often prompts these entities to reassess their investment portfolios, leading to heightened interest and activity in the crypto market, specifically Bitcoin.
The Early Bull Run: A Promising Sign
The recent surge in Bitcoin's value is not merely a fleeting anomaly. Rather, it serves as a tangible indicator of a burgeoning bull market. Just a year ago, around November 2022, Bitcoin was valued at approximately $16,000. Fast forward to today, and the cryptocurrency has demonstrated significant resilience and growth, reinforcing the notion that a new bull run may already be in motion. With the current price of $27,500, Bitcoin has seen a staggering increase of 71.9% since November 2022.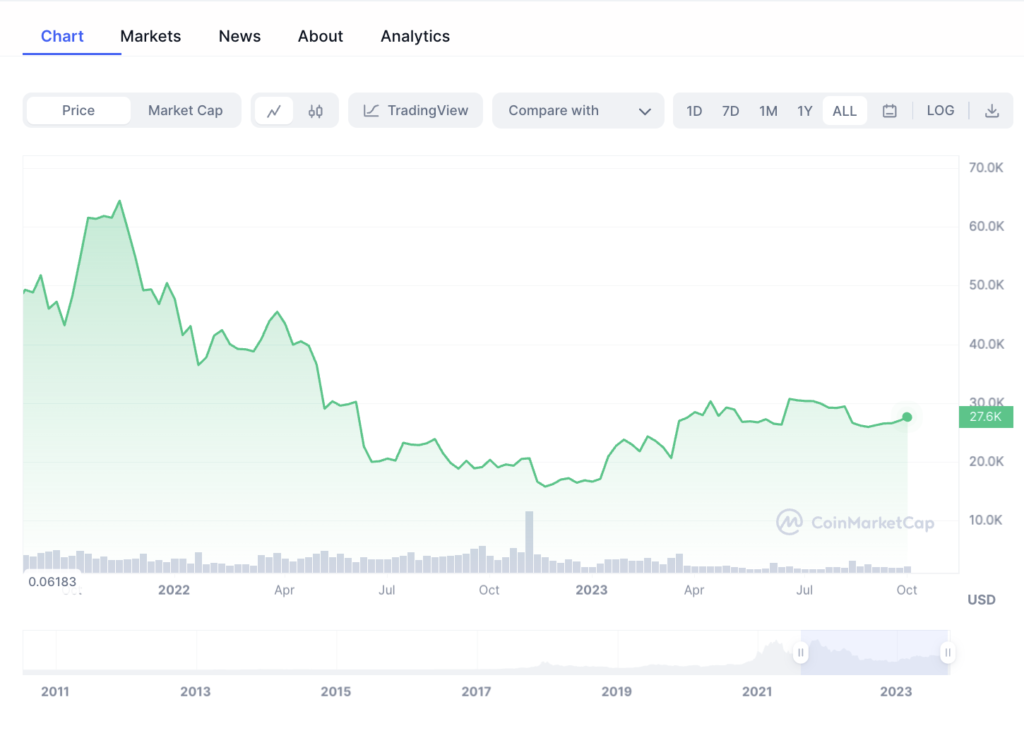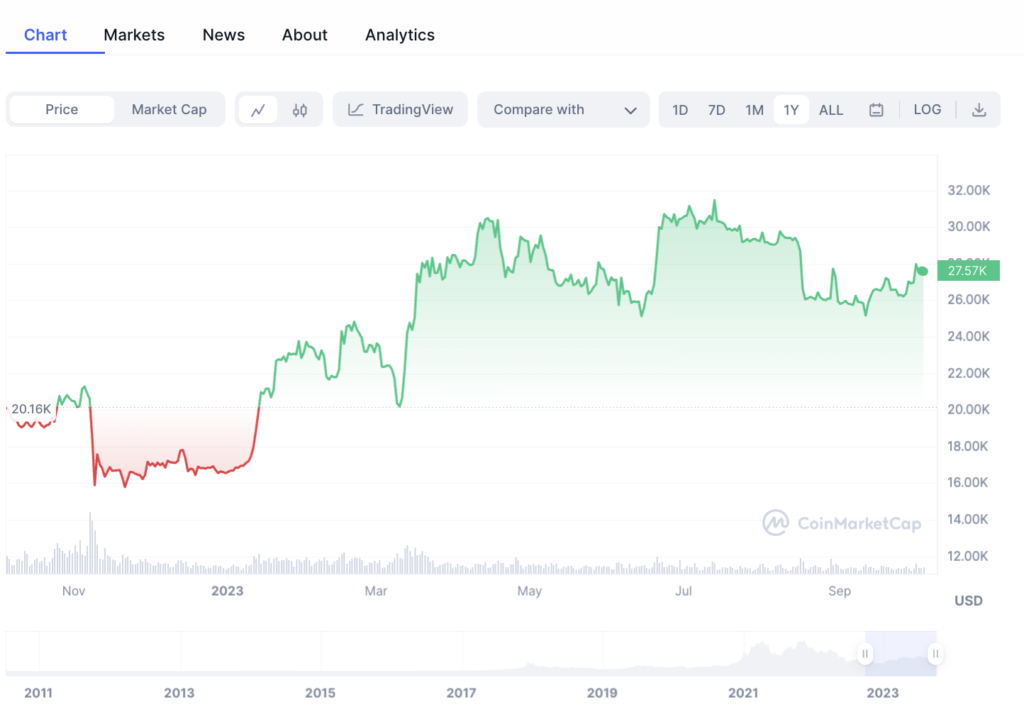 This impressive upswing in Bitcoin's value in the last seven days is a testament to the renewed confidence and interest from both institutional and retail investors. The market sentiment surrounding cryptocurrencies, especially Bitcoin, appears to be overwhelmingly positive, underlining the increasing mainstream acceptance of digital assets.
Factors Driving the Bullish Momentum
Several factors contribute to Bitcoin's current bullish momentum:
1. Institutional Adoption: Institutional investors, including prominent hedge funds and asset managers, continue to show a growing interest in cryptocurrencies. This influx of institutional capital injects a considerable level of stability and credibility into the market.
2. Regulatory Clarity: Regulatory frameworks surrounding cryptocurrencies have begun to take shape, providing a level of assurance and confidence to investors who may have previously been hesitant to enter the market.
3. Global Economic Uncertainty: Amidst economic uncertainties and inflation concerns, Bitcoin is increasingly being viewed as a store of value and a hedge against traditional fiat currencies.
4. Technological Advancements: Ongoing developments in blockchain technology and the broader crypto ecosystem are enhancing the utility and accessibility of cryptocurrencies, bolstering their appeal to a wider audience.
The Road Ahead
As Bitcoin's surge in "Ubtober" demonstrates, the cryptocurrency landscape is in a state of dynamic evolution. The convergence of institutional adoption, regulatory clarity, and technological innovation is paving the way for a more robust and resilient crypto market.
While the road ahead may still present challenges and fluctuations, the overall trajectory appears to be one of growth and maturation. For both seasoned and novice investors, keeping a close eye on Bitcoin's performance, especially during pivotal months like "Ubtober," may offer valuable insights into the broader financial landscape and the evolving role of cryptocurrencies within it.
(Visited 432,835 times, 1 visits today)
You Might Be Interested In